Below is our story before 2013: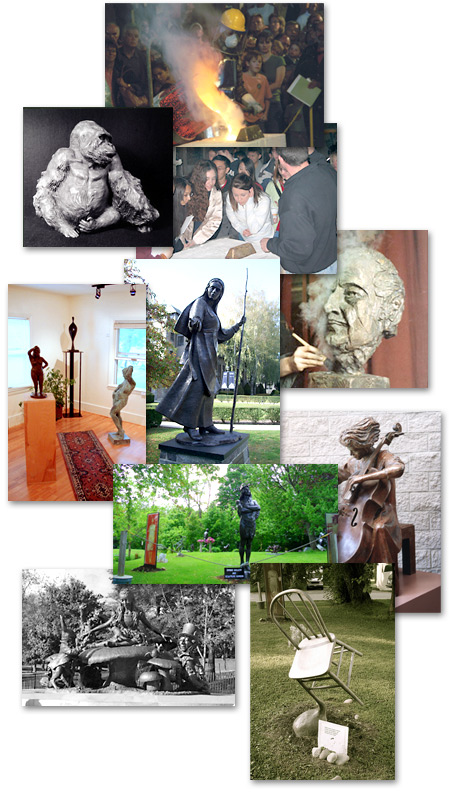 History of the Gallery
Welcome to the Spring Gallery and Sculpture Garden in the Belgrade Lakes region of Maine, established by Jeffrey Spring in 2000. Jeffrey is the president of Modern Art Foundry, a family owned and operated art foundry located in Astoria, NY. As possibly the oldest family owned art foundry in the United States, Modern Art Foundry has been serving artists and communities since 1932. Jeffrey attended the University of Maine in the 1980's and later lived in Portland, Maine. After spending a few summer vacations in Belgrade in the 1980's he decided to purchase property in Belgrade because it was close to his wife's family roots. Thus, Spring Gallery was launched. Today the gallery and garden are on the main street in Belgrade Lakes Village, a peninsula between Great Pond and Long Pond. Exhibiting work from both customers of Modern Art Foundry and Maine artists, there is a wide range of lost wax cast bronzes ranging from gift shop items right up to monumental sculpture. The show changes each year, usually showcasing a single artist in one of it's rooms. We present to interested visitors a 20 minute video reviewing the lost wax casting process and "touring" the foundry. It is enjoyed by people of all ages. The most frequent comment heard is "I had no idea, I will never look at a monument the same!"
Being open seasonally from Memorial Day to Labor Day, and by appointment year round, we welcome guests to picnic in the Garden with tables and chairs available. We are members of the Belgrade Lakes Business Association and Belgrade Lakes Association, and we enjoy participating in the community, having done sculptural loans to local communities and institutions. The Foundry has cast many of the states historic monuments including Samantha Smith in Augusta, Joshua Chamberlain at Bowdoin College, and John Ford in Portland. We have partnered events with Colby College Museum of Art, just 20 minutes away, which is becoming a premier art museum of the state of Maine. One community activity that has developed into a highlight of spring is the annual third graders visit to the gallery and garden, after having previewed the video at school.
The Belgrade Lakes region is peaceful, picturesque, and welcoming, Central Maine's premier lake area, it is loved for sparkling scenic streams and chain of seven lakes, panoramic views of fields, hills, woodlands, and inviting quaint towns and villages. Whether a destination for activities and action or a retreat for peace and tranquility, to be serenaded by the haunting call of the loons, the Belgrade Lakes region is where memories last a lifetime! Among the many nearby cultural attractions, summertime events include Waterville's annual International Film Festival, Augusta's Human Rights Center, Belgrade's annual Fourth of July celebration, renowned for it's quaintness, a slice of old-time Americana (even a frog jumping contest!), theater, concerts, and our Spring Gallery and Sculpture Garden.